Infinity Trax is a mesmerising super-puzzle which provides endless hours of creative problem solving, imaginative play and most of all fun!
Each precision engineered modular track section has inbuilt magnets to stick to vertical ferrous metal surfaces like fridges, magnetic whiteboards and filing cabinets. 
It's a truly beautiful object which oozes class whilst being a fully functional and engaging talking piece that takes up zero floor space.
Infinity Trax is the simplest and fastest to build marble track ever made. Each section not only sticks to your fridge but also snaps into place with the neighbouring track ensuring a smooth path for your marbles. Don't be fooled though, simple is not the same as easy - you'll need to manage marble speed, and plan your run carefully in order to achieve true marble run greatness! 
Because making new tracks is easy and intuitive, the limiting factor to marble run glory is imagination and creativity, making it the perfect way to engage those beautiful brain cells. 
This is a DIY kit, so step one is the rewarding process of making the track pieces. There is a real sense of accomplishment as you work through the steps and see your track parts coming together. 
With most marble run kits once you build it, then the fun and challenge more or less ends. With Infinity Trax however, once you've built your track this is where the fun and play time really begins!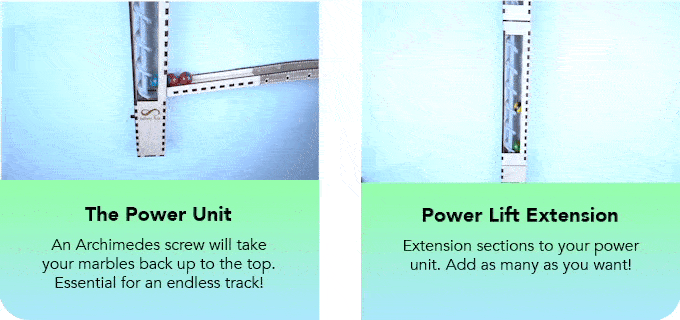 More Info:

Recommended aged 14+
Contains strong magnets which can be very dangerous if swallowed. Keep away from young children.
At a couple of stages during your track build you will be required to use superglue which will need to be done by an adult.